A few months ago, we announced changes to the Duolingo home screen. Since then, we've been busily working to update our dashboard to match the new home screen, while working with a team of teachers (thank you, teachers!) to share progress updates and deepen our understanding of the needs of world language classrooms based on their feedback.
With this feedback in mind, we've made some key adjustments to your teacher dashboard that we hope will be of service to you in the upcoming school year. These adjustments will be made available to all users on August 8.
What updates?
Clearer insights into learning content
We know that a world of planning goes into a well-crafted lesson, and the teachers we spoke with made it clear that they wanted increased visibility into what their students are learning on Duolingo.
That's why we've updated our "Assign" tab to allow access to our learning objectives so that teachers can compare our course objectives to the work that students are doing on Duolingo within the units in their syllabi.
Each unit also has Grammar Descriptors that clearly delineate the grammar that will be taught in each unit, allowing you to better select which Units are appropriate for your students at different times throughout your course.

With newly added Guidebooks, you can view exactly what learning content each unit holds, and get tips and tricks for introducing that content to students.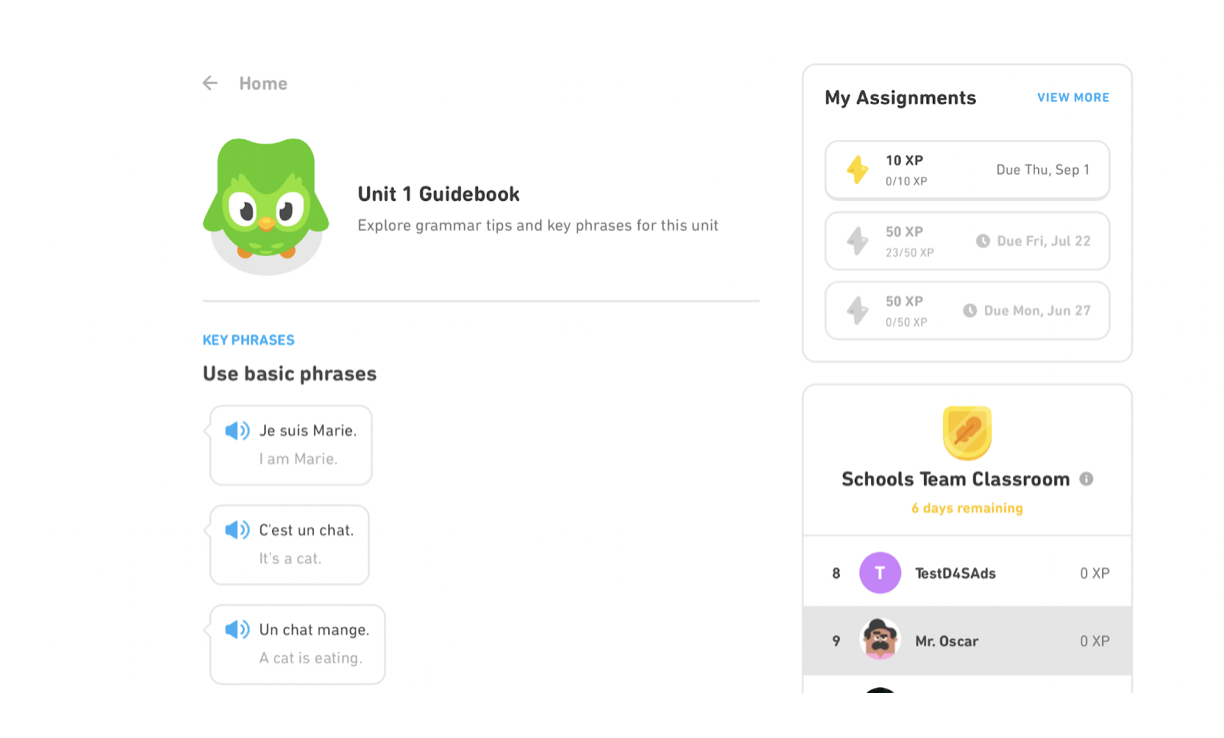 Increased views of student progress
Additionally, teachers made it clear to us that it wasn't enough to know what students could learn in a given course, they need to be able to determine what each individual student is learning in a given course.
With our updated course progress overview, you're able to do just that, by seeing exactly which of these units each of your students is on, at any given time.
In addition to being able to use the "Students" tab to compare where students are on their journeys, you can get an easy-to-view comparison of where your students are by viewing the location of their avatars along the unit guide on the "Assign" tab.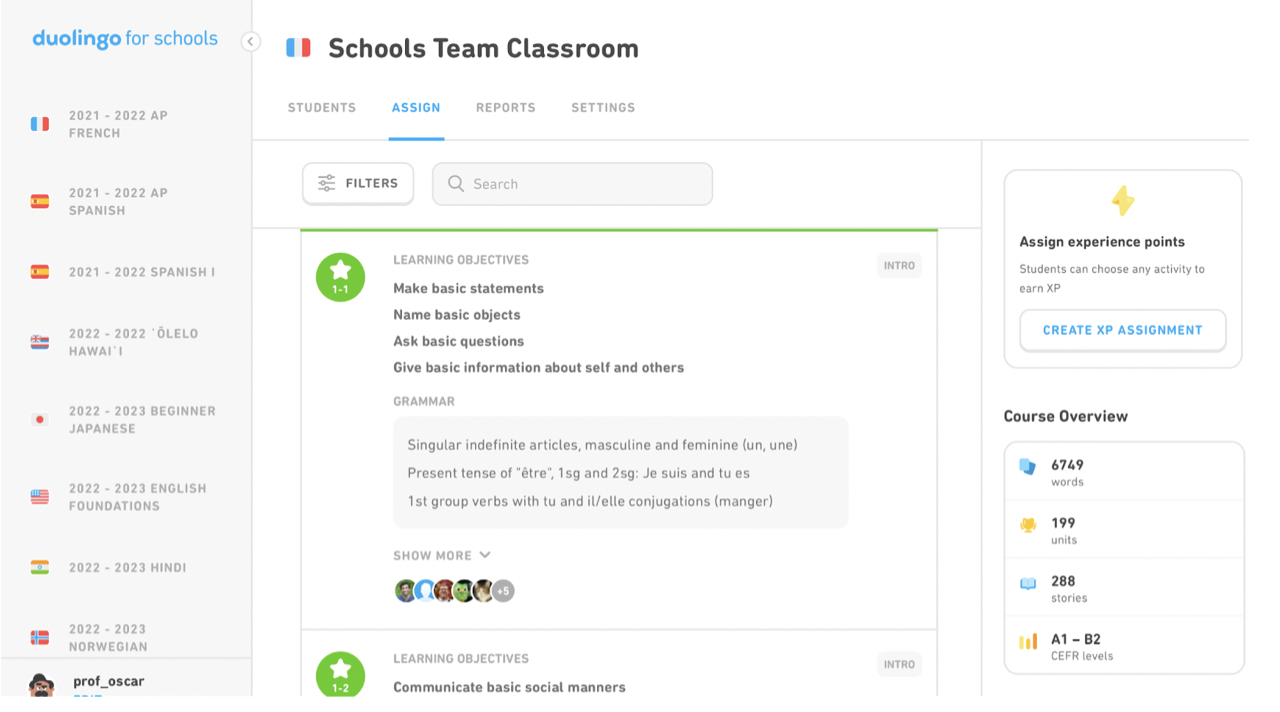 Finally, with the upgrades we've made to our "Reports" tab, you'll receive highly individualized insights into the work that your students are doing throughout their course.
New ways to foster motivation
Teachers also told us that their students love learning through more interactive measures, like games. With this in mind, we added a little bit of competitive flair to our app with new classroom Leaderboards, that allow you to run your own in-classroom competitions. Simply select a time frame and the app will track students' experience points earned, giving them the opportunity to engage in some friendly competition throughout their learning journeys.
What if I have questions?
We love questions! Our team is always happy for the opportunity to help teachers use our product. Consider beginning with our Educators Network, where we host a community of language teachers who swap the tips and tricks that help them maximize language learning with Duolingo for Schools in their own classrooms.
Still need a hand? Check out our Help Center, where you can find a variety of how-to articles to help you use Duolingo for Schools. You can also submit a ticket to our support team to let them know if you've encountered a glitch, or need additional assistance navigating the program. We'd love the opportunity to answer your questions!